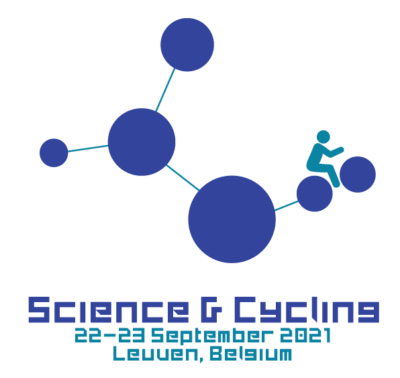 Below you will find the listing of the presentors/presentations scheduled fot the 2021 conference. Many more will follow over the coming months.
Name
Organisation
Title
Altuna, Aitor
Estimating maximal metabolic steady state using critical power

Aubert, Remi
Effects of different lubricants on bicycle chains: tribological and ecological study (poster)

Barnaby, George

University of Bristol
Mapping whole-event drive losses: studying the impact of race profile and rider input on bicycle transmission efficiency

Bergin-Taylor, Kurt
Team DSM
Lessons from Olympic track cycling - Innovation opportunities for other cycling disciplines

Bock de, Jelle
Ghent University
Lap sector segmentation using discrete fourier transformation and geospatial alignment for inter- and intra-athlete workout file comparison
Boon, Niels
Bikefitting.com
Bikefitting: Current Stae-of-art and future trends
Bosse, Christian
Netherlands Olympic Committee (cycling)
Road to Tokyo 2020: The physical preparation of the Dutch Track Cycling Sprint Team

Brodie, Menachem
Human Vortex Training
Strength Training for Cycling Success: 3 mistakes that are sapping your results
Dobiasch, Martin
Danube University krems
A gap in the education of future sport Scientists?
(Discussion Paper)
Duc, Sebastien
University of Reims
Adding vibrations during high intensity cycling increases acute physiological responses

Erp, van, Teun
Stellenbosch University
Load and performance indicators in female professional cycling
Filleul, Valentine
University Côte d'Azur
Interventional studies for promoting prevention of doping in cycling: a systematic review (Poster)
Fukuda, Masahiro
Hamsterspin
Analysis of pedaling motion focusing on the crank angle corresponding to the maximum pedal angle

Giorgi, Andrea
Androni Giocattoli Sidermec Pro Cycling Team
The influence of prior accumulated fatigue on power output in professional cyclists
Henderson, Neal
Wahoo Sport Science
A Logical Approach to Chrono Preparation and Competition
Hespel, Peter
KU Leuven / Bakala Academy
Exogenous ketosis in cycling performance: state-of-the art and future perspectives'

Hettinga, Florentina
Northumbria University
The secrets of competition: pacing, decision-making and performance when racing against others
Hoschler, Lucas
 The Influence of pelvic-belt design on backpack stability in mountain-biking (poster)

Hovorka, Matthias
University of Applied Sciences, Wien Neustadt
Monitoring pulmonary V̇O2 on-kinetics during a 3-year period in youth elite-cyclists

Kaczorowski, Svenja
Zurich University of Applied Sciences
EMG Activities of the Shoulder Muscles during a simulated Downhill compared to dynamic Shoulder Exercises – A Cross-Sectional Study

Kholkine, Leonid
Antwerp University
A Machine Learning approach for In-Race Cycling Performance Prediction
Lamberts, Robert
Stellenbosch University
Learning from field data of professional cyclists; from winning bunch sprints to the effect of accumulating fatigue on performance
Lemaitre, Cedric
Apeira Technologies
Experimental evaluation of the repeatability of wind tunnel measurement of cyclist's drag
Leo, Peter
Innsbruck University
Workload characteristics and race performance of U23 and elite cyclists during an UCI 2. Pro multistage race (Tour of the Alps)
Lorang, Dan
Bora-hansgrohe professional cycling team
What Ironman World Champions and TOP5 Grand Tours GC contenders have in common? Physical and mental aspects of world class athletes in different endurance sports

Marcora, Samuele
University of Bologna
The limits of endurance performance: mind over muscle?
Morton, Chris
University of Calgary/Aerolab
Field measurements of aerodynamic performance in cycling: a systematic analysis of sensor accuracy
Mostaert, Mireille
Ghent University
Motor coordination may be the key to success in youth cycling

Neumeister, Philipp
University of Applied Sciences Technikum Wien
Influence of non-circular chainrings on kinematics during stationary and outdoor cycling

Neumeister, Philipp
University of Applied Sciences Technikum Wien
Influence of non-circular chainrings on muscular activity during stationary and outdoor cycling

Otter, Ruby
University of Groningen / Hanze University of Applied Sciences
Influence of stress and recovery on endurance performance
Patton, Mike
Garmin International
Pujol, Marius
University Lausanne
A single field test evaluation for the assessment of the Record Power Profile in cycling
Ronnestad, Brent
Lillehammer University College
High Intensity Interval training
Salbany, Paulo Filipe
Oxford Rowing / NDorms Oxford
What can elite cycling learn from elite rowing? (working title)
Scholler, Victor
Sports University Besancon
Biomechanical determinant of sitting comfort in cycling

Seiler, Stephen
University of Agder
Load, Stress, Strain: Repurposing an established framework to improve the training monitoring process
Spragg, James
Spragg Cycle Coaching
Can Critical Power be Estimated from Training and Racing Data using Mean Maximal Power Outputs?

Timm, Lars
The Effect of shoulder strap design and mechanical properties on the surface pressure of bike backpacks
(poster)
Verstockt, Steven
Ghent University
Automatic Mapping of Finish Line Videos for the Objective Analysis of Sprint Behavior

Viellehner, Josef
German Sports University
The effect of road bike damping on neuromuscular activation and power output

Voet, Jens
VU Amsterdam
The influence of relative age effect on talent identification in professional cycling

Voet, Jens
VU Amsterdam
Differences in execution and perception of training sessions as experienced by (semi-)professional cyclists and their coach

Mathieu Voiry
Apeira Technologies
Experimental validation of a computer-vision based method to assess the aerodynamic drag of cyclists

Lievens, Eline
Ghent University
Muscle fiber typologies in elite cycling disciplines
Imbery, Felix
A new approach to biomechanical analysis in cycling to introduce science to future data acquisition
Bertron, Yann
University of Savoy Mont Blanc
Force – Velocity – Endurance relationshipAnalysis of the force-velocity components of the critical power in non-cyclists, recreational trained and elite cyclists
Peeters, Thomas
University Antwerpen
Indoor validation of vibrotactile motion steering: towards a new world hour record?