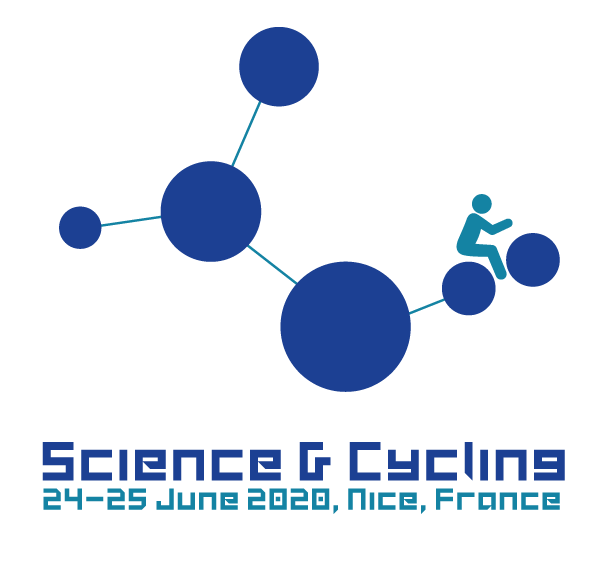 Conference Program
The program will be available on this page. Full program is expected to be available early april.
Day 1 – Wednesday June 24
Welcome
Anton van Gerwen – Event Organiser – Welcome and safety instructions
Serge Colson – University Côte d'Azur – Welcome on behalf of the host
Science specific for women cycling
Training Load; How to measure and do the right thing
Daniel Green – Head of Performance & Innovation – NTT Pro Cycling
Stephen Seiler – Professor in Sport Science- University of Agder
Moderator
tbc 
Session 1                                                              Chairman: 
Session 2                                                                 Chairman: 
Session 3                                                                          Chairman: 
Session 4                                                                        Chairman: 
Blood flow limitations in the iliac arteries in cyclists; Impact on performance measured by new diagnostic techniques during exercise
Martijn van Hooff – SportMáx
Relationship between daily Bioimpendance patterns and training load of professional cyclists during training and racing
Andrea Giorgi – Sidermec Professional Cycling Team
Dissection of the Arteria iliaca externa, secondary to endofibrosis in a cyclist
Charlotte Schepens – Ghent University
Reliability of acute training responses elicited by exhaustive work intervals prescribed with the delta concept
Wouter Timmerman – University of Kent
Can we adjust the bike position to have a positive effect on the uphill cycling performance?
Joris Verreydt – Wolf Performance
Session 7                                                                         Chairman Yago Alcalde
State-of-the-art and technology advances for cycling aerodynamics
Andrea Sciacchitano – Delft University of Technology
Accuracy assessment of the Ring of Fire system for on-site aerodynamic drag measurements
Alexander Spoelstra – Delft University of Technology
Experimental Characterization of a Cyclist's Wake
Florian Adam – Delft University of Technology
On the Cyclist's Drag Crisis
Wouter Terra – Delft University of Technology
Experimental evaluation of a computer-vision based method to assess the aerodynamic drag of cyclists
Cedric Lemaitre – Apeira Technologies
Session 8                                                                   Chairman Bryan Saunders
The psychology of recovery: Implications for athletes and coaches
The use of subjective monitoring in professional cyclists in preparation for competition influence on finishing position
Ciaran O'Grady – Team Dimension Data
Relationship between skeletal muscle carnosine content and cycling sprint performance
Luana Farias de Oliveira – University Sao Paulo
Acute breath-holding does not improve 3km cycling time trial performance
Janne Bouten – Ghent University
Session 9                                                                                    Chair: Lotte Kraus
Bike Fit Unplugged: Working towards the next level of Bike Fit
Happy Freedman – Hospital for Special Surgery
Relationship between preferred saddle height and pedalling kinematics in professional cyclists
Geoffrey Millour – University of Reims
Effect of different seat position on lower limb kinematics, kinetic and electromyography during cycling
Chia-Hsiang Chen – National Pingtung University of Science and Technology
The influence of cycling shos on your optimal cycling position
Jarich Braeckevelt – Bioracer Motion
Overview Posters
Masahiro Fukuda – Hamsterspin – Easy to use accurate measuring system for cycling pedaling motion using a small LED and a smartphone.
---
Gabriel Martins – Universidad Camilo Jose Cela – Infographic. Tramadol: should it be banned in athletes while competing, particularly in road cycling?
---
Gabriel Martins – Universidad Camilo Jose Cela – Infographic. The road to the ergogenic effect of caffeine on exercise performance
---
Frank Michel – Vaude – Engineering of a backpack ventilation technology for cycling using CFD analysis
---
Frank Michel – Vaude – Influence of an engineered backpack ventilation technology on thermal comfort during cycling – a pilot study
---
Pedro Perim – University Sao Paulo – Sport supplement use in Brazilian cyclists: Where is the information coming from?
---
Lucas Schmid – Swiss Cycling – Heat acclimation: practical and efficient in the laboratory
---
Wei-Chi Tsai – Kaohsiung Armed Forces General Hospital – The effect of hub design on lower limb muscle activation while riding on different terrain
---
Session 10                                                                      Chairman Guido vroemen
W' in the Critical Power model: its role in performance prediction
Jan Boone – Ghent University
Power profiling in elite U23 riders during a competitive season
Peter Leo – Innsbruck University
Validation of Lactate Minimum Power testing in cyclists
Christophe Dausin – KU Leuven
Validity and reliability of the CycleOps Hammer direct drive trainer during sprint tests when compared with an SRM powermeter
Sebastien Duc – University of Reims
Xert's Maximal Power Available and the Modeling of Fatigue
Stephen Cheung – Brock University
Session 11                                                                        Chairman Gabriel Martins
A year in the life of a Brazilian professional female road cycling team Part I: Performance measures
Bryan Saunders – University Sao Paulo
A year in the life of a Brazilian professional female road cycling team – Part II: Nutritional and clinical outcomes
Patricia Campos-Ferraz – University Sao Paulo
A new method to control the roughness of different time trial garments. A preliminary study
Corentin Leboeuf – University Franche-Comté
Session 12                                                                          Chairman Jan Boone
Find more speed for real: Aerotesting in the field where it counts
Dan Bigham – Ribble Pro Cycling / Notio Technologies
Guido Vroemen – SMA Midden Nederland 
Smart Textiles - Measuring Motion Data (working title)
Maarten Gijssel – Kinetic Analysis
The development pathway of a World class sprinter
Vasilis Anastopoulos – SEG Racing