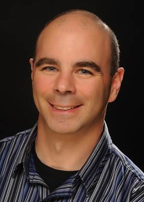 CURTIS CRAMBLETT, (LPT, CFMT, USA Expert Cycling Coach, CSCS) is the founder of Revolutions In Fitness in San Jose, California.
Curtis has been practicing as a Licensed Physical Therapist (LPT) for over 15 years. He holds a BS in Exercise Physiology and Physical Therapy from Ohio University. He is a Certified Functional Manual Therapist (CFMT) with the Institute of Physical Arts. Continual education and certification efforts are a product of his unique dedication to staying on the cutting-edge of advances in the world of physical therapy and sports medicine.
Curtis has been primarily treating a sports medicine and active population. He also works with professional and Olympic level athletes and is an expert at identifying and addressing musculoskeletal dysfunctions. Curtis was selected by the Garmin-Cervélo Professional Cycling Team for bike fitting and physical therapy services. Curtis has also provided services to numerous Olympic, professional and elite athletes including cycling, triathletes, Olympic speed skaters and professional golfers.
Curtis has been an avid cyclist for more than 20 years and has spent thousands of hours on his bike. He is a nationally competitive mountain bike racer and races road bikes regionally. He has also ridden several multi-day long distance rides, including the 600-mile California AIDS Ride. Decades of experience with competitive cycling, extensive continuing education in manual and exercise therapy, and an expert coaching certification has given him a unique perspective on the challenges and benefits of being an athlete, particularly a cyclist.
Thanks to his cycling career, Curtis has also had plenty of personal experience with injury–and recovery, including herniated discs, knee disorders, neck injuries and a myriad of other injuries.  He strives to help his clients identify and reach their fitness, health and athletic goals by applying solid principles and extensive knowledge. Through dedication to his craft and careful attention to his clients, Curtis enjoys seeing positive results and strong gains, time and time again.